A family-owned global clothing empire. You do not need psychic powers to see immediately that the label is from Italy. Luxe spent a day in the busy life of Ermenegildo Zegna. The sturdy Italian started his business on an Alpine mountaintop, energetically turning out his fabrics and suits to sell worldwide. All about his fierce competition with the British, the love for his village and the greatest sales market, which is currently China.
By ROB HAMMINK

This is where Ermenegildo Zegna must have stood, smartly dressed in his tailor-made suit, as the best ambassador of his company. His massive head concealed under a felt hat. He would have gazed down from the mountain in this Italian mountain village of Trivero, the chimney of his wool factory spewing smoke into the rugged surroundings. Ermenegildo provided work, a hospital and a theatre. He planted 500,000 conifers and countless rhododendrons on these barren hills and had a panoramic road, the 'Panoramica Zegna', built at an altitude of 1500 metres to connect Triverno with Bielmonte. "It was a smart move. That way, he could hire the cheapest employees from the area," explains a villager way beyond pensionable age. Why did Ermenegildo begin his wool mill on a mountain and not in the valley? "I have no idea."

Be that as it may: philanthropist Zegna would have seen the houses and factory buildings he had built through the years, his Venetian private gardens and his satisfied employees. He would have seen that it was good. As the youngest and 10th child of a simple watchmaker, he worked his way up from an 18-year-old boy with the ambition of making beautiful suits to a world-class icon, who just before WWII was even appreciated in the U.S. He and no one else surpassed the arrogant British with their tweed. The generations to follow would have it made. And that is exactly what happened. The company currently has 550 sales outlets and employs 3500 people worldwide. It is still fully owned by the family. Turnover declined to EUR 806 million in 2009, but rose again to EUR 900 million in 2010, thanks to growing sales in China. The suit maker has a bright future. The patterns for the exclusive brand Ermenegildo are cut in Switzerland, after which suits are assembled by hand in the Italian city of Padua, to sell for some EUR 2500 to EUR 4500 apiece. In that same Switzerland and Spain, hand and machine are used for manufacturing. They provide suits that sell for EUR 1200 to EUR 2800. There is also a cheaper line, Z Zegna and a sporty branch of the company, Zegna Sport.

Our day in the Italian Alps would expose the secrets of a prominent wool-weaving mill: actually, the entire process from sheep to hand-made tailor-made suit. It is a strikingly labour-intensive process, brimming with woolly terms. Informative. When we finally left the country of Dolce Vita, we knew that 'micron' is a super-terrestrial magic word in this field. The smaller the diameter of a hair, the better. For years, the Zegna company has awarded a trophy (the Vellus Aureum, ed.) to the sheep shearer who – with a professional eye for the smallest micron – can bring together the right sheep for micron-reducing breeding. "This year, we even went below eleven microns," the extremely sympathetic Xavier de Roquemaurel, head of marketing for Western Europe, explains. "For comparison purposes: a human hair is more than sixty microns in diameter. But it is not only about an ultra-fine hair of which threads are woven. It also has to be strong. This field is always in motion. Your competitors never sleep. There is also the issue: don't make too much, you do not want to have masses of clothing end up in one of our eleven outlet shops. To continue to be distinctive, we develop new products every season, such as combinations of raw materials like silk with wool and linen. We just started a 'cool line'. That wool reflects the infrared part of the sunlight, just like a white suit."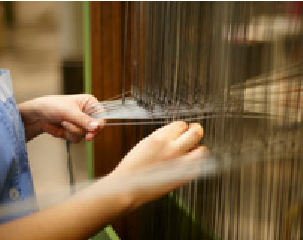 Ermenegildo would have looked back with satisfaction at the nature reserve he founded, Oasi Zegna, before walking down the mountain to the factory. Linda Angeli was not born yet, but she would later chart this man's life. We follow the young archivist on her technical journey that starts with a couple of bales of wool from Australia, New Zealand and a bit from Argentina. She picks at other hairy goods pushing out of a bale: "And this kid mohair, goat hair, comes from South Africa. The small quantity of cashmere we can lay our hands on 'grows' on goats in Inner Mongolia." She then walks on, busily pointing out the paint machines and heavy steel that spins pressed flat wool into ultra-fine threads. Spinners were already made redundant decades ago. Now, machines are running everywhere; they even noticeably thump in your knees at the weaving department. Two million metres of fabric are put together here each year. It may sound like a lot, but it is not. The thistle is the only part that is reminiscent of the good old days. The sharp edges of the plant in dried form are used to make the wool softer, to give off fluff to create flannel. Amidst all the moving tumult, Milena sits with her darning needle. A computer, with a sharp eye for detail, has identified the imperfections in the fabrics and how long it will take to fix them. The woman has been working in the field for forty years. After jobs at other wool mills, she has now worked her way up to the top, at least that is the way she sees it. "I am proud to be able to work here. When I hear the name Zegna, on TV for example, our family gets a warm feeling. No, my husband does not wear them. He prefers to wear jogging suits…"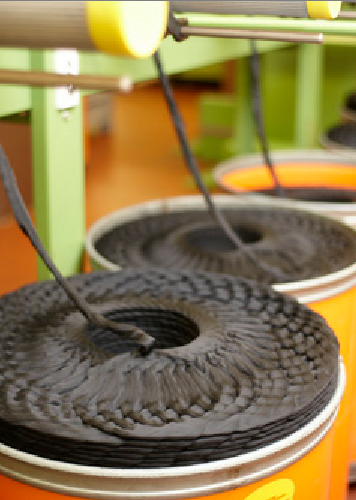 Milena watches us through the magnifying glass on her nose. Old high doors lead to the archives where the Zegna fortune is safely stored. Here are photos of the founder and the fabrics he once designed. The oldest book with neatly arranged fabrics dates from 1859, but it is not from the master himself. "It is a copy from France. It served as an inspiration," the charming tour guide explains and then immediately adds that the sample book from 1941 was indeed from Ermenegildo. It says Eta: summer. Thick fabrics glide between our fingers. The formula to make them is scribbled in another book. "Thick stuff in those days. Cool wool did not yet exist. Now a metre weighs about two hundred and twenty grams, three times lighter than it used to." The atmosphere of the old days is everywhere. Old magazines draw a smile at a minimum. One advertisement from 1935, in the magazine 'Arbiter', speaks volumes. An Italian dagger, made from Italian fabric, cuts through a heavy chain that is inscribed 'Made in England'. It is the settlement with the British. "Italy makes the same quality and better," the chunky entrepreneur shouted from the magazines. Why he put the factory on top a mountain is a big mystery; the omniscient oracle Angeli has no idea, either.

The PC Hooftstraat, a day later. The Italians opened their own shop in the Low Countries on the occasion of Zegna's 100th anniversary. Rob Jolen swings the tape measure around in an oasis of peace. Within two minutes, the thumb and forefinger handle pieces of fabric in rapid succession. Here you have Traveller and High Performance. "Very crease-resistant and then treated with a lotus extract that keeps it dirt-resistant and moisture-proof." One thing is clear during the short contact: Jolen appears to be a connoisseur and those people sometimes know the most nonsensical things. 'So, do you happen to know why Ermenegildo decided to sit on top of that mountain like a king?' Without a moment of hesitation: "Because that is where the water is the purest. The purer the washing water, the better the wool. The competitors who established themselves below probably have their factories in China now."