High wave torpedoes brother's rowing adventure on the Atlantic Ocean

Shark in the wake….

By ROB HAMMINK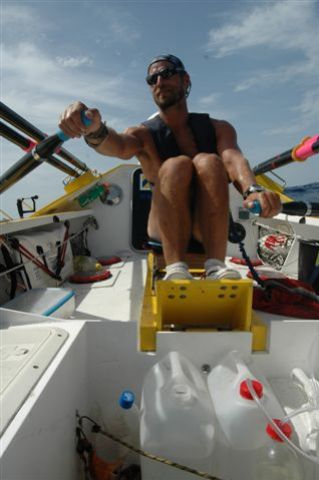 ATLANTIC OCEAN, Friday. He says it calmly, but it's a hard message and frustrates his aim of crossing the Atlantic Ocean unsupported in a rowing boat. "The Zeeman Ocean Challenger won't make it if we don't stop. Our wind generator broke off after an eight-metre-high wave came over the side. At that point we'd done about a thousand kilometres since we set off. Another problem was: I'd just sat down on the loo. You don't want to know what a mess that made in the boat. Then: Oh yeah, and I broke my toe while falling about in my own waste products. But that's just a detail."

Ralph Tuijn may have lost his energy supply, but his North Holland humour, a healthy cynicism, seems to have remained at least. He called yesterday afternoon via the satellites from his supersonic rowing boat, which set off across the deep blue sea for windswept Curacao (where he hopes to arrive in mid-December) from the Canary islands on the 27th of September. Tuijn, a restless professional adventurer who is often to be found on his bike in cold areas, is undertaking the rowing journey together with his brother Mike. Two hours on and two hours off.
"We've got quite a big problem now. We do of course need energy for our GPS, radar and marine telephone. But the most important thing is the water provision, which is now in danger of running out. We have an electronic device that turns salt water into fresh water. It would be irresponsible to continue on so we're going to make a stop at the Cape Verdean islands. We're about three hundred miles away from them now. We'll manage if we can just grin and bear it."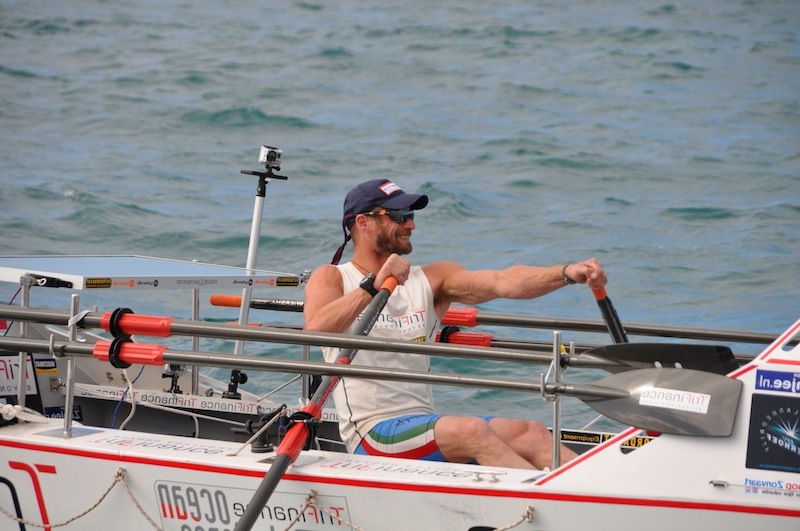 Apart from a few blisters from sitting and rowing, the journey has been going like clockwork up to now.
The weather is being good to the brothers as well. The short exchange over the telephone would seem to indicate that it always has been, in fact. Temperatures of 28 to 30 degrees Celsius by day and by night not much colder than 20. It is as though the vast kingdom of the sea is revealing itself in all its glory. "The flying fish have leapt on board more than once, but we've not much use for them – they're far too meagre to make a meal of. We've seen all sorts of dolphins and whales and the day before yesterday there was a shark following our rowing boat for a few hours. It was probably waiting for one of the Tuijn brothers to lose his footing for a moment. We ourselves are managing with just dried food. The spaghetti walnut is by far our favourite – not forgetting the chocolate mousse, of course."

At this point the connection is suddenly broken and we leave the men to their own devices. Once Ralph Tuijn has set foot on Curacaoan soil, it won't be long before he goes aboard the same rowing boat again to attempt to row from Panama to the Australian city of Cairns. This monster rowing trip will take approximately nine months and will be accomplished this time without his brother – he will be completely alone.